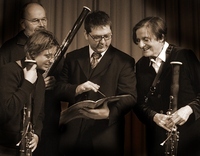 Michael Dürk was born in 1974 in Bingen am Rhein.

Starting from 8 Year he gets individual flute lessons in his hometown Concert Band, later private lessons with several professional flutists.
As a flutist and piccolo he plays in various ensembles and orchestras (including State Youth Wind Orchestra of Rhineland-Palatinate, Symphony Orchestra of the Peter Cornelius Conservatory in Mainz, Mannheim Blaeserphilharmonie).
With various symphony orchestras and concert bands he successfully takes part in national and international competitions, music conventions and festivals (1995: 4th European Youth Music Festival in Budapest / Hungary, 2000: International Wind Music Festival in Seinäjoki / Finland, 2001: 14 . Wereld Muziek Concours in Kerkrade / Netherlands). In addition there are extensive participations at concerts, first performances and CD recordings.
Michael Dürk gets 2 years of teaching in conducting and ear training with Rilling's student Franz-Joseph Staab and completed the one-year conductors training of DVDB of the diocese of Mainz before 18 years old he conducts his first Youth Orchestra.
Aged 23 he is for the first time musical director of a reputable Wind Orchestra.
In his home region of Rheinhessen, and later in the Weser-Ems region he is in demand as a flute instructor and for section rehearsals. In 2000 he has the honor to be guest conductor of the Wind Orchestra of the Peter Cornelius Conservatory Mainz.
As part of the Mannheim Summer Wind Academy 2004 he received conducting lessons from Peter Vierneisel (Conductor State Police Orchestra of Brandenburg, Rheinhessen Blaeserphilharmonie) and has the opportunity to work with the more than 100-member ensemble of Mannheim Blaeserphilharmonie.
As the certified woodwind instrument maker is leaded by work reasons to the Hanseatic City of Bremen in November 2000, he looks also at his new place of activity for major challenges.
By the initiation and establishment of artemosso – Das sinfonische Blasorchester Bremen, whose musical and organizational head he stays until the end of 2004, and of course due to its excellent, intensive work with "sinfonisches blasorchester wehdel" he is crucially involved in spreading and acceptance of autonomous form of art "symphonic band music" in the north of Germany.

From 2008 up to his departure from Bremen for business reasons late 2009, he has been the conductor of the Youth Orchestra of the district Rotenburg / Wümme.
Among others Michael Dürk is 2013 1st Flute at Blaeserphilharmonie Rhein-Neckar as well as at Blaeserphilharmonie Deutsche Weinstrasse, 2014 he is casted as Piccolo at Sinfonisches Blasorchester Vorspessart and 1st Flute at the World Premiere of Bert Appermonts Musical "Im Schatten von Napoleon" with CINEPHONICS VII project.