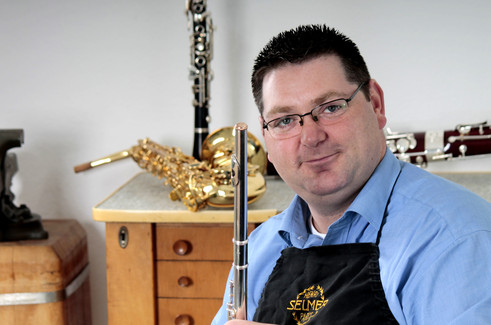 Work history
1994 – 1997 J.Püchner, Nauheim: Apprenticeship to woodwind instrument maker. Training time was shortened from 3.5 years to 3 years due to top of the class achievements during the apprenticeship.
1997 – 2000 J.Püchner Nauheim worked as a fully trained and graduated woodwind instrument maker in the production, repairs and modifications of clarinets, bassoons and oboe used by professional musicians.
2000 - 2009 Werner Fischer Bremen worked as woodwind instrument maker. Including development, production, modifications, repairs and quality control of most woodwind instruments used by professional musicians. Instruments included clarinet, flute and piccolo flutes, saxophone, oboe family and bassoon. Duties also included customer service and supplier support, consultation, sales, trade shows, organizing and teaching of training classes on how to repair and care for the instrument, as well as leading company organization and managing.
2009 – 2012 Technical Manager (CTO) at F.A.Uebel GmbH. Responsible for production planning, quality control, research & development, customer & supplier support, product presentation & artist-relations.

2009 – 2012 Product Manager Sankyo-Flutes at the German/Benelux Sankyo-Distribution (A.Stoelzel GmbH). Link between Sankyo Japan and European distribution. Technical support, product presentation & artist-relations.
Education and training

1997 Graduation & journeyman certification at Handwerkskammer Rhein-Main
2000 Further education to a Straubinger-Pad™-Technician and certified Straubinger Pad™ repairman
2002 graduation to master of woodwind instrument maker (part III & IV) at Handwerkskammer Bremen
2004 Instructor at international Straubinger-Pad™ qualification class at Straubinger Flutes Inc. USA, further education of repairmen from the USA, Europe and Asia.
2005 Education travels in Japan visiting all leading woodwind instrument maker companies in Japan.
Michael Dürk has been a valued go to person of major leading woodwind instrument productions for quality and development. He holds regular lectures and repair workshops at colleges and universities. His works lead him to several countries, including Japan, Korea, China, Australia and England.